Are you looking to buy a comfortable electric scooter for commuting? If so, then you have a wide range of options to consider. However, we'd like to save your time by introducing Mercane WideWheel electric scooter. This scooter is relatively new in the market but has made its mark because of the enormous benefits it offers to riders.
Introducing Mercane Wide Wheel Electric Scooter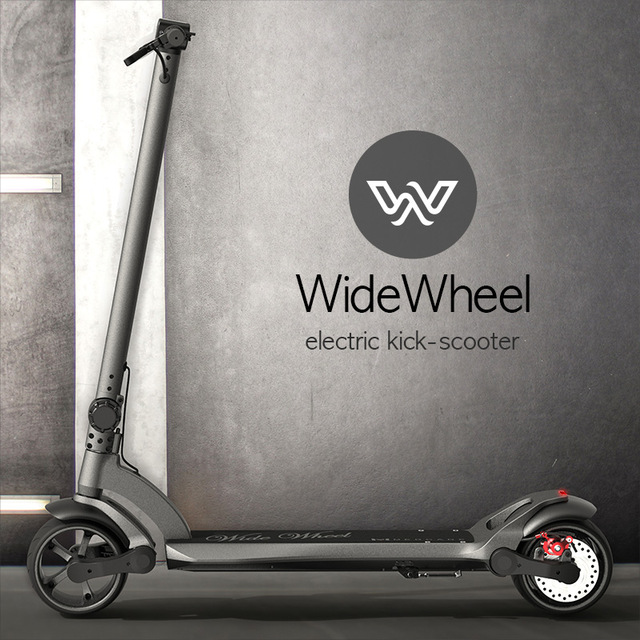 Mercane unveiled their WideWheel e-Scooter in the previous year. When it was first announced on IndieGoGo at the beginning of 2018, the Mercane WideWheel had literally stolen the march over all other electric scooters available in the market at that time. The scooter offered numerous catchy features that soon made it popular with users all over the world. It was equipped with chunky airless tires, all-round great specs, and incredibly strong rear and front suspension. These features enabled the Mercane WideWheel to stand out from the competition.
With much thanks to FluidFreeRide, this electric scooter is now with us for a detailed analysis and review of its features. For those who don't know about FluidFreeRide, let's tell you that this is the same company behind other types of e-scooters, including, but not limited to, the Mosquito and Horizon.
On our end, we have been paying special attention to this new scooter, keenly interested in learning details about it. We tested Mercane Wide Wheel and here we are with things that we like and don't like about this scooter! We've also expressed whether or not this is the best electric scooter to come out for public use so far. 
Keep reading to know about its features and other details.
Features Of Mercane WideWheel
Mercane WideWheel specs:
Motor: 500 W (option for two motors)
Battery: 48V and 8.8 Ah (single motor) or 13.4 Ah (dual motor)
Top speed: 25 mph (40 km/h)
Range: 15-20 miles (24-32 km) depending on battery option
Weight: 37.9 lb (17.2 kg) for single motor option, 45 lb (20.4 kg) for dual-motor option
Frame: Aluminum
Load capacity: 220 lb (100 kg)
Brake: rear mechanical disc brake
Tires: 8″ x 3.9″ airless
Suspension: dual front and rear swingarm suspension
Before we dive into the details, let's give a hint that Mercane WideWheel is a fairly feature-heavy e-scooter. Unlike other electric scooters, there are no 'gimmicky' features. All of its features are useful and happen to be high-quality additions, which play an important part in enhancing the scooter's overall capability.
Wheels
With a width of 4-inches, Mercane WideWheel has an 8-inch diameter. A unique combination of rubber, urethane foam and aluminum has been used to make these sturdy, strong, and airless wheels. Keep in mind, however, that these tires are not exactly ideal for intense off-road use. Despite this, the wheels are still far better and reliable than the traditional commute scooter tires! You can easily use them on most surfaces. It is a dual wheel electric scooter.
Mercane WideWheel Suspension System
The awesome Mercane WideWheel scooter wheels are assisted by the incredible rear and front swingarm suspension system. Thanks to this combination, the scooter gives you soft and controlled riding experience. This suspension system doesn't let you feel many uneven and cracked parts of the roads. However, larger bumps are still unavoidable.
Brakes
If safety is one of your best concerns, then Mercane WideWheel e-Scooter is definitely a worthy option to consider as it happens to be a wide scooter to ride on! The vehicle is equipped with an extra-ordinarily powerful disc brake. Since it works so impeccably, you might take some time to get used to it.
The disc brake pads for Mercane WideWheel electric scooter are available on Amazon.
Mercane WideWheel Deck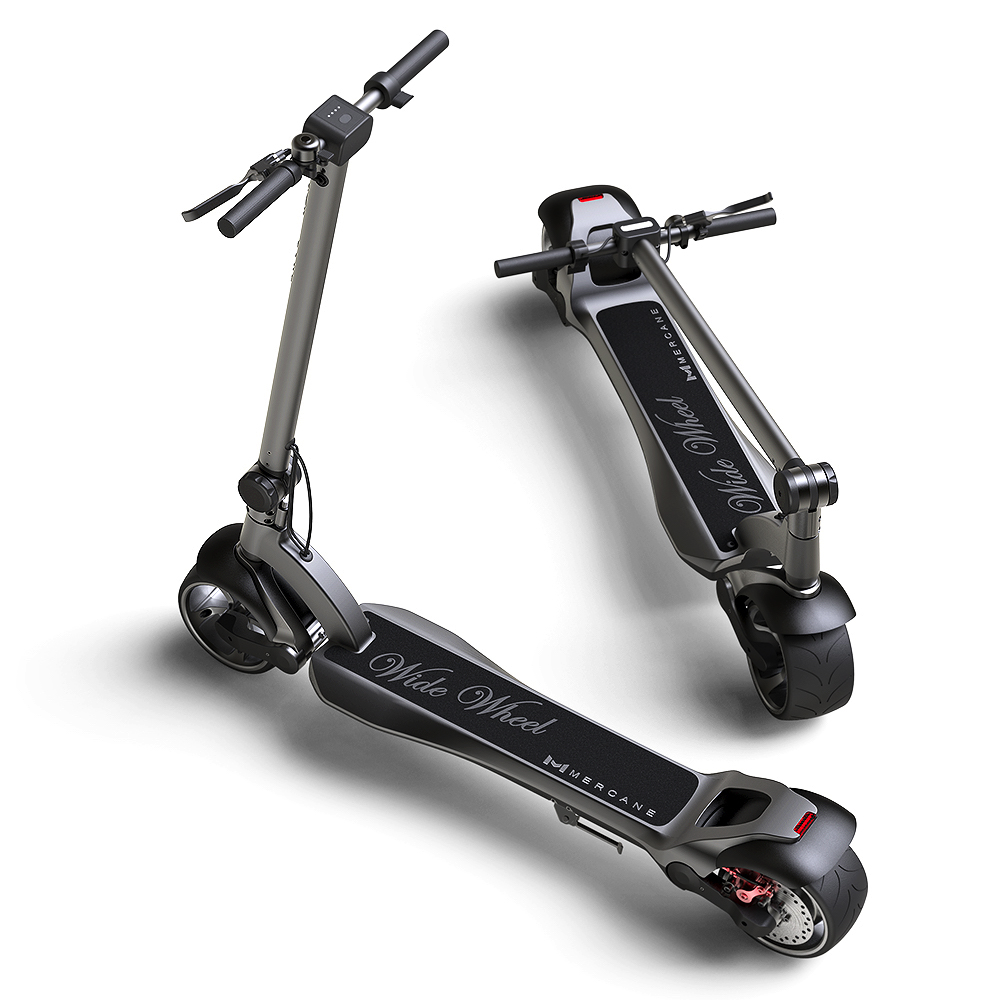 The scooter has been coated with 3.5-inch wide grip tape. However, the batteries and deck are still wider. This width actually helps a rider in enjoying a smooth ride on the scooter. Its deck quality makes it stand out from the rest of the electric scooters presently available.
Other features
Strong brakes, wide deck, quality wheels, and supportive suspension system are not the best things Mercane WideWheel e-Scooter has to offer you. There are more useful additions such as front LED headlight, a kickstand, and a mudguard that protects the rear wheel and contains the brake light.
The Design
Having discussed certain features of this device, let's proceed to have a talk about its design and the quality of the building.
The main body of Mercane WideWheel's is made of plastic and aluminum. The materials used are of very high quality that can be noticed as soon as one steps on the scooter. It is a wide wheel scooter with solid construction. Combine it with a strong deck and you immediately get the feeling as if you are dealing with an intelligently designed machine.
The strong quality of the building and wide wheels make this scooter a stable and smooth ride. These materials are the reason why you don't feel many cracks and bumps on the way. If you have got a rough commute routine with lots of cracks on the road, Mercane WideWheel e-Scooter would be a truly great option to have.
As far as we are concerned, the only issue we faced was that handlebars could be a little loose. That occurs because of their foldable nature.
Mercane WideWheel Performance
With such features built into a magnificent design, Mercane WideWheel's is truly the best electric scooter currently available in the market. What adds another feather to its cap is the outstanding performance that this scooter blesses you with.
With a range of about 15 miles and the best speed of 25mph, Mercane WideWheel has certainly made it to our list of fastest electric scooters.
The scooter has good acceleration and the rider experiences a jolt as they push the lever, abruptly increasing the acceleration. This machine also performed reasonably well in a hilly area. It only got slow slightly even when it was running on the steepest part of the hills.
What You Need To Know
There is no doubt that this Mercane WideWheel scooter stands out from the rest of the electric scooters that exist. However, it is important for you to understand a few things before making a decision. Despite its elegant design and excellent features, the performance of the scooter will be largely dependent on the weight of the person riding it.
The location where you are using this scooter is also a critical factor that could impact the scooter's performance.
Despite the fact that the scooter promises excellently on many aspects, it could still be fairly noisy. Its hub motor might also make a slight hum when you are using it at full power.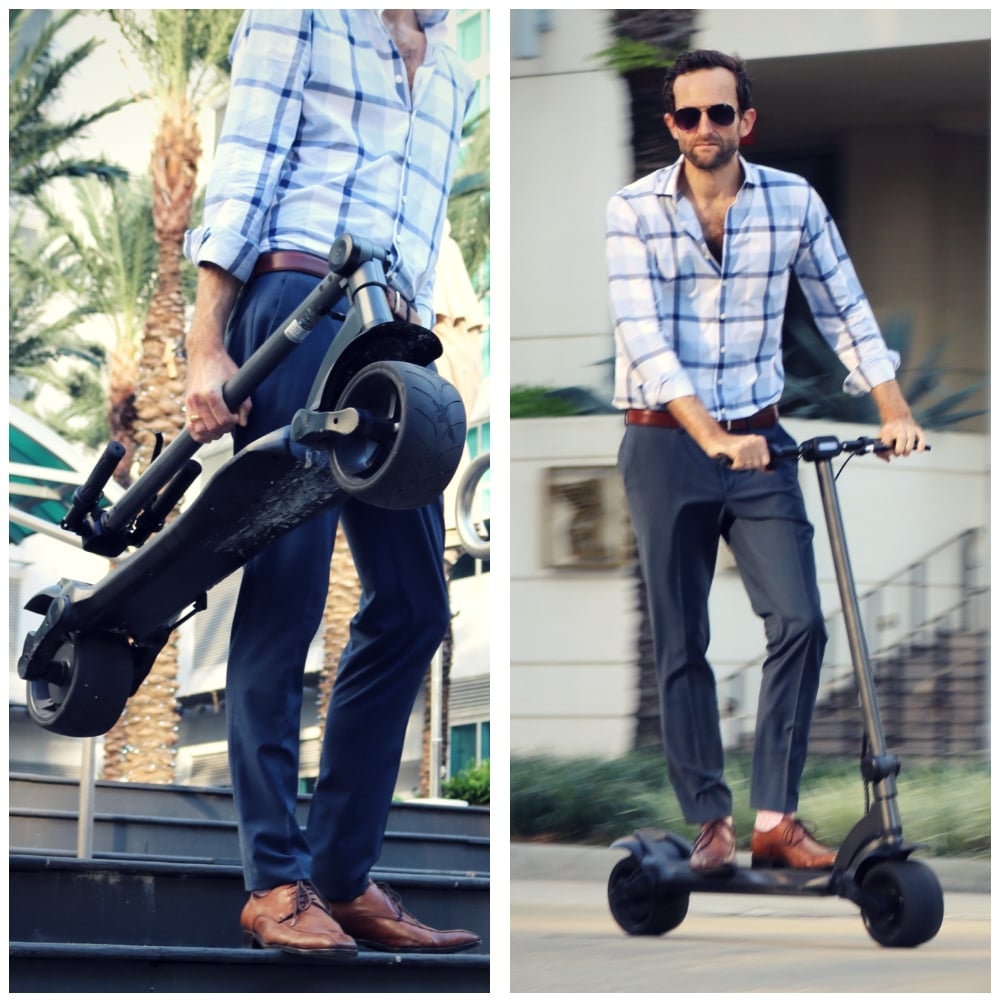 The overall experience is very good and we highly recommend Mercane Wide Wheel e-scooter. It offers you an incredibly stable and smooth riding experience owing to its strong suspension and wide wheels. Even if you have no experience of using scooters, starting from this one would be a great idea!